Carpet weaving is an age-old tradition in Nepal dating back to centuries. In the hilly region, local carpet Raddi, Pakka, were woven with indigenous wool and designs for the local market. The Tibetan Refugees who came to Nepal in the late fifties started the commercial production of carpets. It was first exported to Europe. It is now one of the major export items of Nepal and exported to more than thirty countries of the world.
.
The Hall Mark of Nepalese-Tibetan Carpet  
100% handmade

Custom Made: Exclusive & Elegant

Height of pile: 6mm to 10mm (0.15 to 0.30 inch)

Fast-colors & Eco-friendly dyes of vegetable/chemical origin

Average density: 60 to 150 knots per square inch or 2.5 square cm.

Nepalese carpets are woven by the Tibetan Loop Senneh knotting system

Carpet Making Process

Wool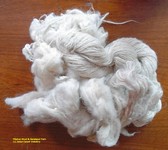 Tibetan highland sheep wool is considered the best wool for carpet. It is long stapled, rich with lanolin, lustrous, has natural springiness that resists matting and over time develops patina (shine), not found in other wool. It is sorted and washed by hand with cold water to remove dirt and foreign matters and sun dried. New Zealand wool, Silk, Bamboo and Natural Fiber - hemp, Nettle (allo), Banana and Agave yarns are also used to weave carpets.
Carding & Spinning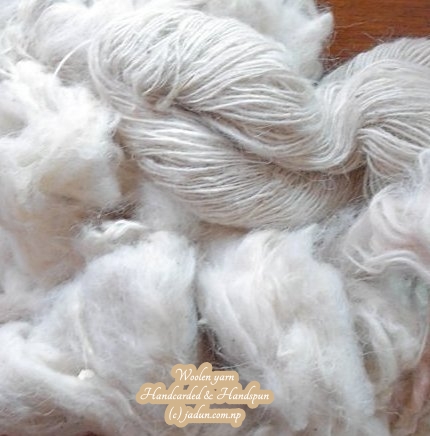 The wool is carded by hand or machine. Hand carding is the original and best process to maintain the quality of the wool. It is time consuming and expensive process. Hand-carded yarns are still available on order. The wool is also machine-carded with Tibetan and New Zealand wool blended in varying
percentages.
 
The carded wool is then hand spun into yarn of desired thickness using a Spinning wheel (Charkha). The thickness of the yarn determines the quality of the carpet.
Dyeing


The hand spun yarn is dyed with vegetable (Natural) or Azo free chemical dyes manufactured by renowned international companies.
Vegetable dyes are earth tone shades and give antique look to the carpets. It is prepared from various parts of the plants - fruit rind, leaves, buds, flowers, bark, stem, wood, roots, etc. Pots dyed yarn using vegetable dyes are available on special order
Weaving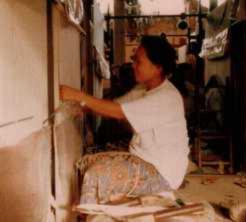 The carpets are entirely hand-woven in a vertical loom. The weavers tie each knot around two warps of cotton threads, looped around a metal rod, using the graph as guideline, sketched with the design of the carpet to be knotted and the colored yarn to be used on each knot. After the knotting is completed, it is cut and the pile exposed. The tools used are iron rods, scissors, knife, levers, comb, etc
Trimming and Shearing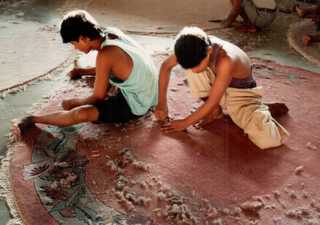 The pile is leveled with shears. Pointed scissors are used to lightly cut to separate different colors in the carpet, bringing out the beautiful designs.
Washing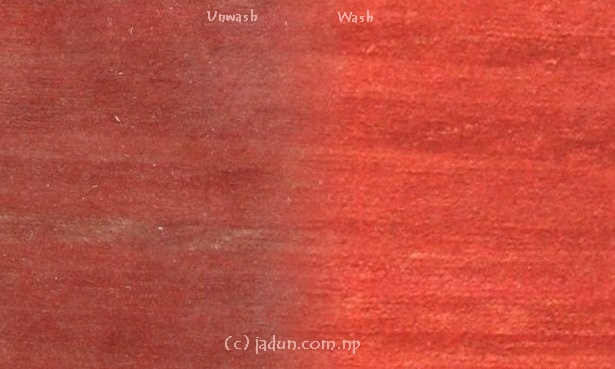 The trimmed carpet is washed by hand. Various washing methods are used to get the individual quality of the carpet.
Types of wash: Normal, Antique, Gold, Hard shine, Faded to Herbal wash.
Final Touch
The finished carpets are given a finishing touch by re trimming and stretching to correct any distortion in shape.
Finished Carpet: